59 Years Down Ghana's Housing Lane
Mar / 16 / 2016
Introduction
Ghana, our beloved country located on the western coast of the African continent, recently celebrated her 59th independence anniversary on Sunday 6th March 2016. After 55 years of British colonial rule (1902 - 1957), the colony Gold Coast was rebirthed as Ghana on 6th March 1957. Like everything that is born, the country has grown and developed over 59 years, and so has the population. From a total of 6.5 million citizens in 1957, the population has grown to 26.6 million as recorded in 2014. Over the past 50 to 60 years the population has increased almost 300%, and the country's population is increasing at a rate of 2.7% per annum. The growth of the country's population does not occur in isolation; more people means there is a need for more housing in Ghana.
Traditionally, a house is defined as a building for human shelter. However, housing goes beyond just shelter; Article 18 of the 1992 Constitution of Ghana, mentions that the right to adequate housing is intricately linked to the enjoyment of other human rights like security of person, education and health. Housing in Ghana is no longer merely relevant to the sheltering needs of a person but goes beyond that to reflect a their state of security, standard of living due to amenities available, and even social status. This is why Devtraco Plus has the aim of providing quality properties for habitation with state of the art facilities and impeccable design, which speak to functional needs such as security and shelter, and emotional needs like privacy, relaxation and aesthetic appreciation.
The Housing Situation in Ghana after Independence
The immediate post-independence period marked the most active governmental participation in the housing affairs of the state. A short while after independence, the Nkrumah government, as part of its 1960-65 National Development Plan, made plans to provide housing for Ghanaian citizens by undertaking mass housing projects. There was the set-up of two organizations: the State Housing Corporation (SHC) and the Tema Development Corporation (TDC), to provide about 200 housing units per month. With a population of about 6.7 million in the 1960's, the plan for housing in Ghana looked like a feasible project. However, funding run dry as the years went by, and the project did not adequately materialize. In total, the SHC has created 28,000 housing units.
There was also the Roof Loan Scheme, which gave government support to individual funding for housing projects up to roof-level, which lasted only until the 1970s. It was around this period that a majority of the rural-urban migration began, which also resulted in more individual, unplanned low-budget housing projects for migrants to rent. Urban population grew from 636,667 (6.32% growth rate) in the 1970's to 969,195 (7.51% growth rate) in the 1980's. The introduction of the Rent Act, capping rent prices in order to create affordable housing in Ghana, also ended up discouraging private builders from creating more homes. This, coupled with the onset of economic crises in the late 1970's, peaking in the early 1980's played a solid card starting the ever-growing housing deficit in the country. In 1988, the Ghana Real Estate Development Association (GREDA) was formed, which began to push organized private contribution to the housing deficit.
By the early 1990's the annual estimated need for housing in Ghana was 70,000 units, with a reported backlog of 250,000 units. A journal publication in May 1993 by the Institute of Economic Affairs, Ghana reported approximately 60% was unsatisfied and a shortage of 41,000 units were created annually, excluding the fore mentioned backlog. It was evident that the government required even more support from the private sector in clamping down on the housing deficit. The 1992 budget, in order to induce activity from private real estate developers, declared that customs duties and sales taxes on imported building materials would be cancelled. In addition to this, developers of residential properties were tax exempt for five years, and rental income was also declared tax exempt for five years following completion of building. The government also encouraged the use of local material in building as an effort to boost the declining economy. In this period, the private sector accounted for over 60% of investment in housing projects.
In the early 2000's, Ghana's participation in the Highly Indebted Poor Country (HIPC) program made available funds to be put towards housing. Another housing policy was introduced in 2007 to assess the growing need of housing in Ghana. Presently, it is estimated that the State Housing Department, combined with the private sector, are building 30,000 housing units annually. However, this is but a minor dent in the estimated minimum of 170,000 units needed annually for the next 10 years, in order to properly clear the nation's current housing deficit of 1.7 million units as estimated in 2015.
Mid-year 2015, a new housing policy was introduced to provide accessible, adequate, decent and affordable housing in Ghana. The government acknowledged the private sector's immense contribution to Ghana's housing problem and promised to create a more conducive atmosphere for them to thrive. The policy is to ensure that housing projects are designed to be sustainable, encourage green communities, incorporate the use of more local materials, and eventually clear out a large portion of slums.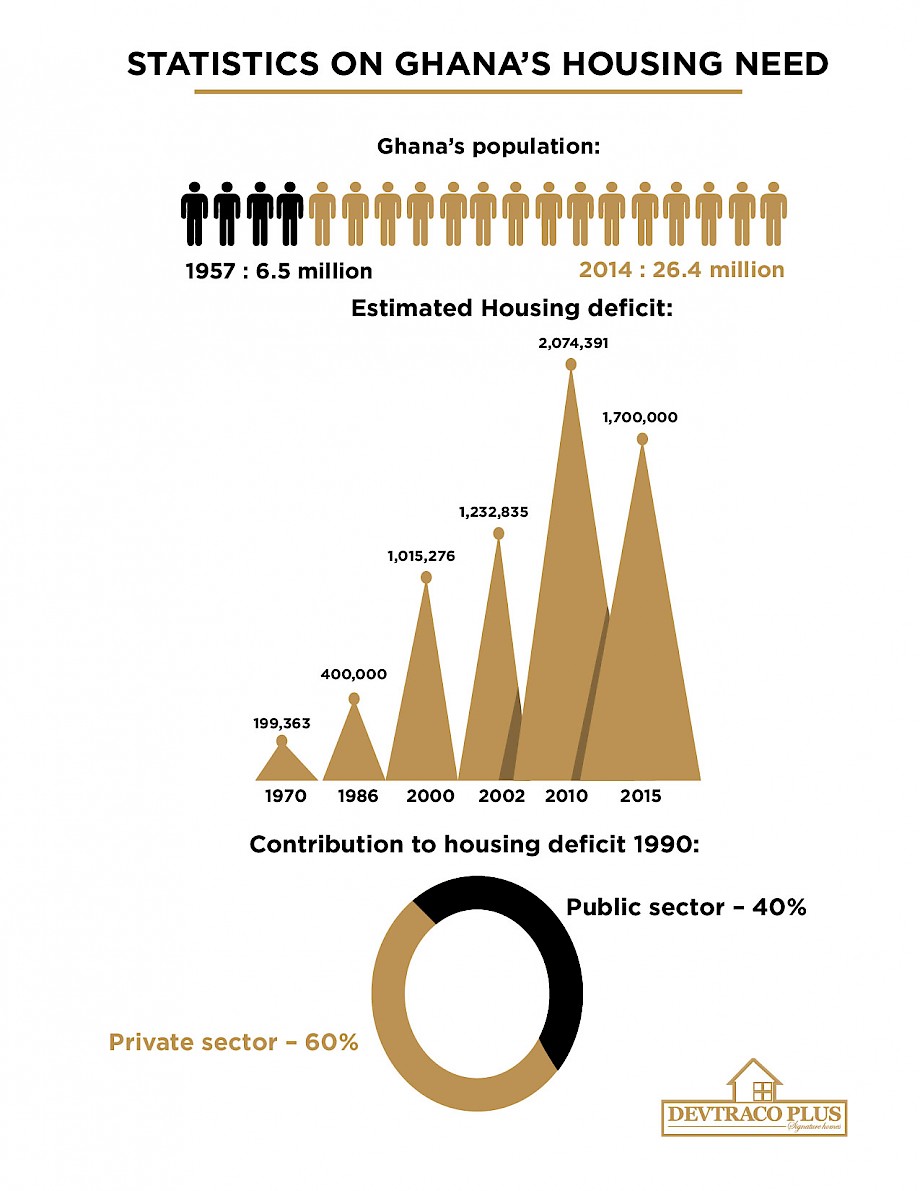 Devtraco Plus, and the Way Forward
At the moment, private real estate developers have built over 10,954 new homes since the establishment of the association in 1988, and it is encouraged that more private developers spring up and contribute to closing the gap, hence the establishment of Devtraco Plus properties. A majority of the housing in Ghana are of medium to poor quality, with a minority rated good to excellent. To help reduce this, Devtraco Plus' aim is to provide a range of quality homes with the highest finishing in the heart of Accra which will offer people a chance to achieve their dream lifestyle. With awards from African Property Awards for Architecture (2015 - 2016), our confirmed expertise will continue to create more stellar developments to restore our country to an immaculately planned and habitable state.
Share This: