Avant Garde – Living Contemporarily in Labone
Apr / 12 / 2016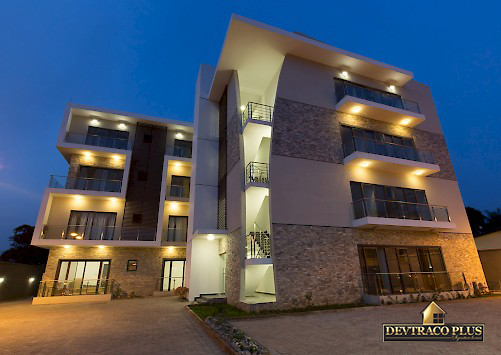 Before making any house your home, there are elements you must look out for to ensure that you are making a solid investment, upgrading your daily lifestyle and not merely purchasing a roof over your head. The structure of the layout, quality of finishing and utilities as well as the style are potential deal makers or breakers in determining whether the home you are viewing is "the one". Devtraco Plus' Avant Garde merges chic, modern style with practical and useful function and recently opened its doors for purchase of the limited remaining units. Here is why you should definitely consider buying a home in this contemporary Labone Haven if you are looking for more than a roof over your head.
Layout
The Avant Garde encompasses twenty (20) separate one-, two-, and three-bedroom living units with a wide range of high-standard facilities to support a quality lifestyle. There is an easy, natural flow from one room into the next, with no major restrictions to movement. The front door comfortably leads to a spacious living and dining area, as well as the kitchen area, and all bedrooms are en-suite with built-in wardrobes and glass-shower cubicles to give you the privacy you need. If there's a need for outdoor relaxation, there is a terrace outside each apartment for you to unwind and view Labone's serene environment.
Size of rooms
Finding the right balance of space is a hassle for most home scouters. Is the place too big or too small? Avant Garde apartments offer you choice; you can get homes between 60 and 128 square meters depending on preference for the one-, two-, or three-bedroom units. It's enough room to keep the apartments cozy without seeming confining, and spacious but not sprawling.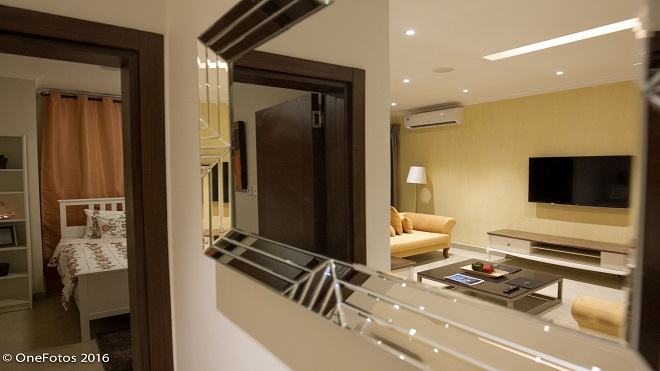 Kitchen features
Eating is a necessity but cooking is an art. What better place to make art than in an environment efficient and stimulating enough to inspire it? With sleek domestic appliances straight from Italy, the kitchen is fully fitted so you don't have to go through the chore of searching for this level of quality by yourself. Integrated into the kitchen are designer cabinets with lacquer finish and soft-closing doors, a fridge and freezer, a four-plate electric burner, a microwave, an oven, and a washer & dryer unit, all courtesy of Indesit Co., known for efficiency and reliability. The countertops are made from non-porous and stain-resistant quartz stone, which makes cleaning easier.
Bathroom features
Bath-time goes beyond the function of cleanliness; it's a time for bliss, calm and therapeutic relaxation of your body. Classy bathroom / sanitary ware were imported from Germany, Thailand and Spain to give you that cool and cleansing effect whenever you step into the shower. The wash hand basins and water closets are by Nahm's ceramics; taps, faucets and shower from Grohe fittings, and Spanish porcelain and ceramic tiles for the rest of the bathing area.
Heating and cooling systems
When you live in regions close to the earth's equator, you know how uncomfortable the heat can get. Not to worry, the Avant Garde has made provision for this: there are easily regulated air conditioning units from LG installed in each bedroom, to deal with the warmth when it gets unbearable. There's one installed in the living area, and another in the kitchen as well, so you can keep cool wherever you are in your home.
Utilities
Naturally all the homes come with electricity provision, but there's no need for panic even in the "dumsor" (power outage) moments. There's a back-up generator to continue the supply of electricity even when there is a general black out. There is water in reserve so you will never have an issue with the flow as well. Fibre optic internet services have been set up so you can easily access the web whenever necessary, be it for work or entertainment purposes. For those into recreation and exercise, there's a swimming pool, and a fully stocked gym with treadmills, exercise bikes, dumbbells, flat benches, etc.
Services
Living in Avant Garde comes with property/facility management services by Talis Property Services, so that your home appreciates in value while you live in it. Landscape maintenance services are available to keep the surroundings looking constantly groomed. It's a gated community with 24/7 security services for your safety and the protection of your valuables, and concierge services are available to assist you in whatever you need.
With features like this, you can't go wrong in choosing the Avant Garde as your new home; a place where everything you need has been thought of in order to keep you living in style. Visit our project page to find out more about this au courant Labone home, and make a purchase! Now that you know what this property offers you, the ball is in your court … what do you say?
Share This: