Dwelling Discreetly In Dzorwulu
May / 09 / 2016
Dzorwulu is one of the well-known upscale locales in the Accra Metropolitan district of the Greater Accra Region of Ghana. The entire area is usually classified into two sections: "Dzorwulu" and "North Dzorwulu". Though both are classically residential, the former is older and has more of the downtown feel, while the latter, now expanding, is much quieter and presents more of the suburban neighborhood ambience. Generally Dzorwulu as a whole is known to support a reserved and quiet lifestyle, with a homey structure to its neighborhoods, and this was the perfect reason for us to situate our Niiyo project right in its heart. Notwithstanding, there are various places to frequent should you need some time out in town to relax and have fun.
If you're in the mood for something to eat other than food prepared by your own hands, Dzorwulu has some of the best eateries in Accra. You can visit Peter Pan at New Bonnie Crescent, a restaurant which takes its commitment to chicken seriously. They serve delicious crispy chicken, smoothies, sushi and chicken wraps, all at very affordable prices. You may choose to remain in their snug restaurant space or order take out, depending on your schedule and preference. Perfect Touch is another restaurant right at the Dzorwulu junction, serving well prepared local and continental dishes with an allowance for the vegetarian lifestyle. One can sit in the restaurant or place an order to be picked up at a later time. You can also try out Zion Thai, if you have the affinity for Thai dishes with a cozy but lively environment to go with it. To satisfy a craving for afro-chic surroundings, Shaka Zulu might be the best place for you. This bar, club and restaurant on the Olusegun Obasanjo Road has one of the most interesting afro-alternative movements in Accra, not forgetting great food and lovely drinks.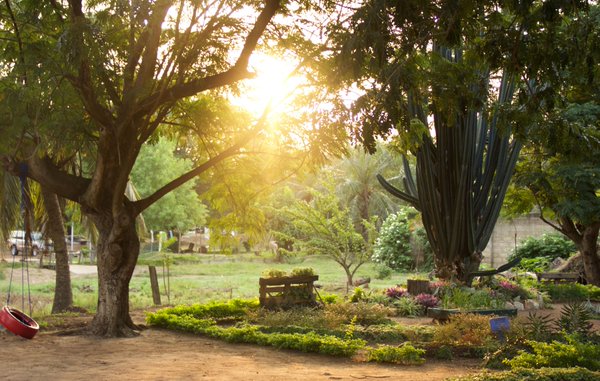 The Fiesta Royale Hotel, though primarily for the function of providing accommodation, is actually a great area to lounge in, despite the fact that you might not be putting up in one of their rooms. The 5 star hotel is one of the ritziest in Accra, with classy bars that are open to the general public, live music bands and a grand variety of cocktails to sample. Its restaurant serves both local and foreign dishes by well-trained chefs. Nogahill Hotel is another great space for both accommodation and entertainment, promising panoramic views of the Dzorwulu landscape and the rest of Accra, and unique architectural design.
Transport yourself to a cozy, mini-Paris right in Dzorwulu when you visit Choco'Pain. This lovely café is a food and beverages joint serving all kinds of cakes, sundaes, fudges, and other freshly baked goods, with a twist of French semblance. It is the perfect place for a quiet breakfast or a private sweet-after-meals rendezvous in the evening. Or if you're in the mood for a louder night than that, Funky Town Disco is the place to be. It is a club and bar open at all hours of the night till early morning.
Dzorwulu is largely one of Accra's best residential areas for families and family activities; there are enough spaces to occupy the children, while creating an allowance for the parents as well. The Mmofra Park, a children's play park right opposite the Abelenkpe traffic light is a great area for child play, and by extension family outings. The children get to participate in drama, arts and crafts, and learn about African culture and heritage. Its greenery and natural aesthetic is quite calming and refreshing. Right next to it is Marvels, a cosmopolitan mini-golf-course good for family outings and with enough games and play space for children. It is an events hub as well and can be hired for parties. Marvels is also known to serve the most delicious waffles in Accra; so when you're in your Niiyo apartment and the craving hits you and your family, the best isn't far away. Matthew's Fun House is yet another perfect spot for families and children. This enclosed and fully air-conditioned play space is a safe zone to allow your child to run wild with the amenities, from the jungle gym to the game consoles.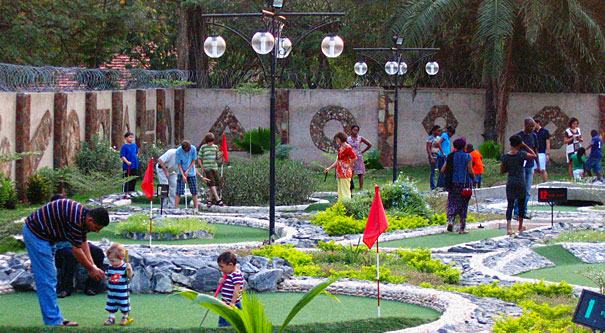 For those into a sportier lifestyle and keeping fit, the Astros Sports Complex will give you the opportunity to energize and revitalize yourself. The Astros Sports mainly hosts footballing tournaments and allows anyone at all to hone their football skills, professional or not. It's one of the favorite hangouts of many celebrities, and there is a chance you might just bump into a few of them while you're there!
In efforts to support green living, recycling and sustainable energy in Dzorwulu, Trashy Bags has set up shop in the area. This outfit uses recyclable materials to create fashionable accessories like bags and clutches in order to contribute to keeping the environment clean and natural, in a unique way. If you want to stay fashionable in Accra while emphasizing your affinity to the green lifestyle, pass by Trashy Bags.
Dzorwulu is not lacking in terms of amenities either. It has a community police station to ensure safety and security in the area. When in quick need of medical services, the Bedita Pharmacy is close by. It also has its fair share of banks with VISA so money transactions over diverse platforms are not a problem. Dzorwulu has a diverse and well-structured educational system. Many renowned schools are established in the community so your children are spoilt for choice. For basic education, Lincoln Community School and Golden Age School are right at the edge of the township. There is also Alsyd Academy, Englebert, and Association International School. Dzorwulu also has a school for special kids, called the Dzorwulu Special School.
As you can see, Dzorwulu offers all that is needed to help you live a relaxed lifestyle and maintain your vitality in a natural and peaceful atmosphere, but also offers you the occasional hype should you need to have a little fun. Moving into our residential and contemporary oasis, the Niiyo, set right in Dzorwulu, will be a great way to start life in a new home.
Share This: