The Niiyo – A Stylish Suburban Home In Dzorwulu
Apr / 25 / 2016
Do you sometimes get stressed and need a break away from the fast paced city life? Are you the reclusive type, looking for that sweet, quiet getaway to relax? Everyone needs a break, at least once in a while. Most would take a day or two off from their regular rushed lifestyle and find a serene and secluded spot away from it all, to rejuvenate. Others take long recesses and travel to soothing vacation zones. It isn't always, however, that we can afford to put a complete stop to our typical daily activities and take a long breather away from our usual routine. The question then is, how do you keep up with your regular, every-day lifestyle of work and other commitments, and at the same time, have a refreshing retreat away from city life stress, without losing access to the Accra city convenience?
At Devtraco Plus, we came up with the perfect solution: why don't we put you in a situation that feels like having a vacation, without you having to move away from this concrete jungle? It would be an amazing feeling to have access to components of your daily work routine and conveniences that the fast-paced Accra city life brings, all the while being able to cozy away in a calm, quiet and stress-free environment. And so, the Niiyo apartment complex in Dzorwulu was born.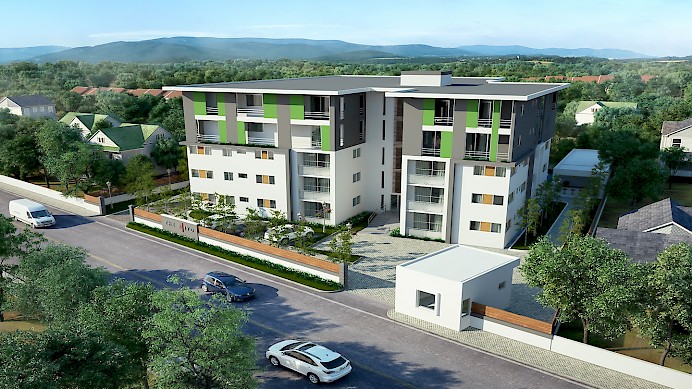 The design
The Niiyo is a residential retreat in Dzorwulu (Accra), a home with a laid-back bohemian style. It comprises thirty-one (31) signature homes which are one-, two- and three-bedroom apartments, ranging from 66 to 218 square meters in size. It's been strategically located to spare you from the hubbub of typical Accra life, but designed to give you access to the city and maintain the conveniences and up-to-date features that living in an urban center affords you. We've kept it simple and sweet so as not to distract you with the same flamboyance and over-complexity typical of the city. The Niiyo is meant to give you that sense of relief and serenity after long bustling days in the office.
The features
Living in the Niiyo comes with access to modern, state-of-the-art home technology to give you comfort and enhance urban relaxation. You are provided with broadband and Wi-Fi to keep you connected to the outside world, regardless of you being in this seemingly reclusive haven. There is an intercom facility in the building with built-in cabling for voice and data/TV.
Each apartment has air-conditioning placed in the bedrooms, living room and kitchen. The kitchens have been pre-fitted with recent-model appliances: fridges & freezers, four-plate electric burners, microwaves, ovens, and washer/dryer units. The bathrooms have also been fitted with quality porcelain and ceramic ware, and all master bedrooms are en-suite with glass shower cubicles. The apartments are flattered by the natural sunlight pouring in through floor-to-ceiling windows and fiber glass doors. These doors are soft-closing to cut out noise pollution. We did not forget to install a lift with safety features ensuring 'no entrapment' even in the event of fire and/or electrical power failure.
To help revitalize and stay healthy, a gym has been included into the apartment building, and stocked with the requisite equipment to keep you in tip-top shape. There is a treadmill, exercise bike, flat bench, dumbbells, and many more for you to incorporate into your exercise routine. Water therapy also has many physical and mental benefits, so we have included a pool house; whether it's to splash around for fun or to take seriously as a health remedy, the swimming pool will aide your flexibility, strength and circulation.
We prefer that you have an easy, laidback lifestyle while at home. In light of this, we have made the Niiyo a gated community within the Dzorwulu area, with 24/7 security, so you do not have to worry about your safety. There is a generator plant to cover any power outages and a water reservoir to keep you in constant supply. There are concierge services to aid your daily movement as well. Estate management services have been provided so you do not stress yourself over the maintenance and value appreciation of your property.
The view/environment
Relaxing the body can only go so far if the mind is not relaxed as well, and because we understand this, we have made sure to incorporate land maintenance into our offering. The Niiyo's scenic green environment has delicately trimmed landscapes for your viewing pleasure, with a wide angle of attractive views in Dzorwulu and across Accra.
The Niiyo has epitomized a quality lifestyle of urban relaxation, comfort and luxury. When you live in the Niiyo, you don't need to go to pack up your bags for a vacation elsewhere; there's a haven right at home.
Share This: