Vice President of Guyana visits Devtraco Group at NoVA showroom
Oct / 20 / 2021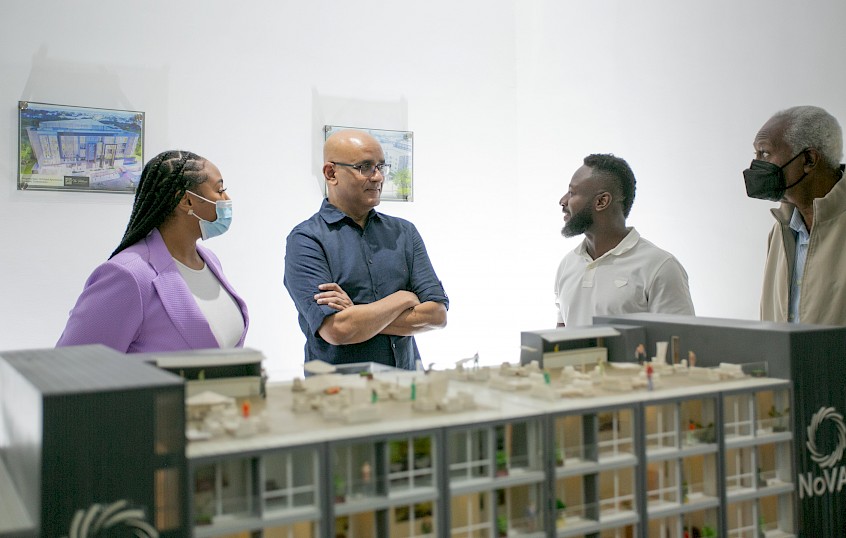 Dr Bharrat Jagdeo, the Vice-President of Guyana, visited the Devtraco Group on Sunday, 17th October 2021. This historic visit to the company was marked with a great deal of excellence and professionalism. The Devtraco Group is a leading real estate conglomerate in Ghana with over 25 years of experience in developing properties.
n light of years of growth and benchmarking innovations, the Devtraco Group was humbled to be the only real estate company in Ghana that he visited. His Excellency Dr Bharrat Jagdeo was hosted by Joseph Aidoo, Executive Director of the Devtraco Group, at the plush Nova Showroom in Roman Ridge. The Nova is a mixed-used development developed by Devtraco Plus, the luxury and high-end property arm of the Devtraco Group.
His Excellency was treated with a display of rich Ghanaian culture as he was welcomed with traditional Adowa dancers. He was then introduced to the Pelican Hotel Apartment which is another project under the Devtraco Plus umbrella. A quick walkthrough of the Nova showroom was done by the Sales Consultant Team of Devtraco Plus.
The Nova model was explained in-depth to the Vice President, and he also got to witness the storyline of the Devtraco Group through a short video presentation. This presentation gave him more insight into the vision of the Devtraco Group and its contribution to the real estate industry in Ghana.
This visit was part of a series of meetings the Guyanese officials had with the Ghanaian government to strengthen the ties between Ghana and Guyana.
You can watch how the event played out here.
Share This: