Devtraco Plus wins 4 awards at the International Property Awards
Oct / 23 / 2018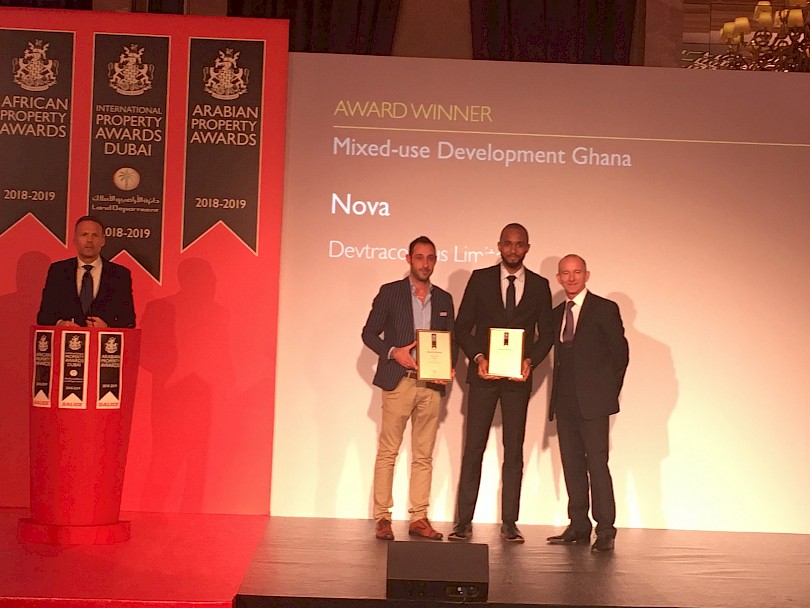 Devtraco Plus wins 3 awards at the prestigious International Property Awards
The just ended Dubai, Africa & Arabia Property Awards proved to be yet another fruitful year for the Ghanaian real estate industry.
Devtraco Plus was honoured at this prestigious awards ceremony held at the plush Waldorf Astoria Dubai Jumeirah Palm Hotel on 11th October 2018 for their revolutionary project called "NoVA".
NoVA was nominated in three categories, winning all three awards for the stunning work put together by the Devtraco Plus team. The company competed against some of the best property professionals across Ghana to be recognised in the categories of Best Apartment – Ghana, Best Mixed-Use Development – Ghana, and Best Mixed-Use Architecture – Ghana.
In addition to this, NoVA won the Best Mixed-Use Architecture – Africa, beating fellow competitors in the sub-region.
Designed to be a ground-breaking and architectural masterpiece, NoVA is situated at Roman Ridge and comprises retail and residential units, as well as serviced apartments managed by an international hotel brand.
This is the third time in four years that Devtraco Plus has won awards at the International Property Awards. Previous award-winning developments are Acasia apartments in Cantonments, and The Edge in Labone. In addition, Devtraco Plus picked up a five-star award for their Best Mixed-Use Architecture entry, as well as a nomination for Best Mixed-Use Architecture in Africa.
The Dubai, Africa & Arabia Property Awards are the largest, most prestigious, and widely recognised programme throughout the regions and are part of the International Property Awards. They are judged by an independent panel of 80 industry experts with focus on design, quality, service, innovation, originality, and commitment to sustainability. The judging panel is chaired by Lord Caithness, Lord Best, The Earl of Liverpool, and Lord Thurso, members of the House of Lords in the UK Parliament.
The Awards are in their 25th year and cover 48 different residential and commercial categories, regional heats are staged for Arabia, Europe, Africa, Canada, Central & South America, the Caribbean, USA, UK and Asia Pacific.
With these awards, Devtraco Plus has proved itself as the leading premium real estate developer in Ghana and is living up to its mission of changing "the skyline in Ghana one building at a time". The team are proud of this achievement and look forward to an even brighter future.
For more info on Nova please click HERE.
Share This: