Show Off Your Affluence : Living In A Penthouse In Ghana
Mar / 11 / 2021
Finding the right home is crucial when looking to rent or buy a home, but with a healthy budget, investing in a penthouse in Accra, Ghana could pay off. It is fulfilling. Suppose you are an individual who consistently values the benefits of apartments and does not have any desire to forfeit space. In that case, a penthouse in Accra is an ideal property to consider for investment. The views from penthouses are truly unique and captivating. It provides a different perspective that will allow you to immerse yourself in nature. Living in a penthouse apartment in Ghana provides you with the luxury of waking up with a rich view that feels like a home in the sky. Who wouldn't want to experience the picturesque and breath-taking moments that come with living in a penthouse? Living in a penthouse in Accra, Ghana is exciting and rewarding; it leaves you to always look forward to returning to your place of comfort after a stressful day. Give your wish list an upgrade and visit Nova for your best penthouse apartments in Accra, Ghana.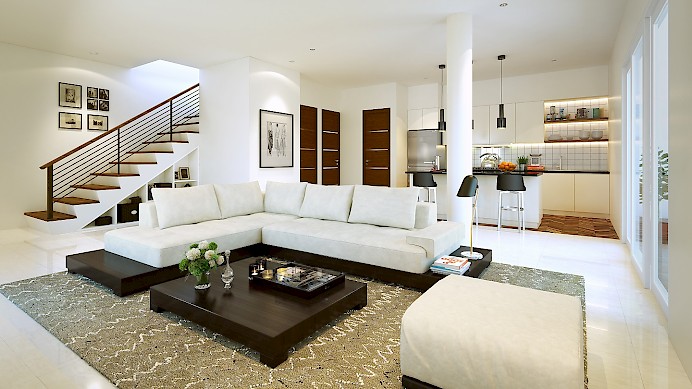 What is a penthouse?
Penthouse suites are the apartments situated on the uppermost floor of apartment buildings. Unlike the rest of the apartments in the complex, a penthouse is bigger and more luxurious and can be seen as a standalone house situated right at the top of a high-rise structure. It is seen as a "separate" entity from the rest of the building.
Features of a penthouse
Penthouses are the best variations of residential apartments and are usually high priced. Some common features you might find in a penthouse includes;
Private entry point with personalized services,

Large terraces that other inhabitants of the apartment cannot frequent

Unique large floor plans

Fully equipped kitchen with sophisticated appliances

High ceilings

An oversized ensuite master bedroom

High-end finishes

Private Pools

Luxurious Interior Styling
Benefits of living in a Penthouse
1. Extra Space with luxury touches
Being talked about as the peak of luxury, Penthouse means that it is often the largest residence in the building. You may always want to look at a penthouse if the other apartment units don't provide you with the space and luxury amenities required for you and your family. Purchasing or renting a penthouse apartment in Ghana is a decent way of compensating yourself with a luxurious lifestyle. Penthouses come with various designs and can easily be remodeled to suit your status. The decoration possibilities should not be underestimated. It allows you to unleash your creativity to give yourself the treat you truly deserve. A penthouse with a French roof will enable you to use simple and plain decor, including unique furnishing made from natural materials. Also, the high-end kitchen that comes with a penthouse, for example, may not be available anywhere else in the apartment you find yourself.
2. Peace and Privacy
Living in a penthouse in Ghana takes you away from the busy street noises as you live on the uppermost floor of the apartment and no neighbors on the upper floor to cause you to feel awkward with the sound of trampling around at odd hours of the night or slamming doors. The calmness and tranquility that come with living in a penthouse are simply refreshing as you are assured of no intrusions. The serenity of waking up to the natural sunlight in a penthouse could be all you need to get you off to a blissful day. Total privacy is all you look forward to when you return home.
3. Beautiful Skyline Views
You can never go wrong with the view from a penthouse apartment in Accra, especially If views are on your priority list. It's an obvious fact that the higher up you go, the better the view gets. These views are relaxing and breathtaking hence if you need a home or apartment with such views, then a penthouse in Accra is where you want to be. Without effort, you get the "Accra by night" astonishing view which people travel to Legon or Peduase valley to appreciate.
4. Status Symbol and Higher resale value
The notion of living in the uppermost part of an apartment above the busy streets and enjoying wide and beautiful views sounds luxurious, and it is the aim of many successful people who want to enjoy comfortable living. For some individuals, penthouses are not simply places to live: they are a way of life. People who aspire to this lifestyle know exactly what they require from their penthouse apartment; a Luxurious lifestyle. As an investment option, the resale of a penthouse certainly gives you a guarantee for your investment as there can be only a limited number in each luxury building.
Why invest in a penthouse?
As an investor, a penthouse is a great opportunity in the real estate world. Their limited nature, first of all, gives them great worth and makes them highly sought after by the wealthy class. Owning a penthouse apartment suite in Ghana to rent out, is a great business opportunity for real estate investors; the yields will be substantial. The investor can also purchase a penthouse to resell at a later date.
A penthouse that has been inhabited by a celebrity may sell at a higher price than the original due to this celebrity association. It is no wonder that investors and owners of luxury penthouses are picky about who they sell or rent out to. Only the crème de la crème are allowed to live in one. By investing in a penthouse in Accra, Ghana at the plush NoVA luxury apartment in Roman Ridge, one can leverage and resell their penthouses for the original price or more.
Another way to increase value and sell your penthouse at a premium is to invest in quality facility management throughout your property's lifespan. In light of this, Devtraco Plus has strategically situated NoVA, our latest luxurious property, in the city haven, Roman Ridge. Purchasing the penthouse comes with a diligent facility management service to keep your property's quality top-notch and retain the appeal of its newness. Maintaining the appearance of your penthouse will cause it to increase in value also.
Whatever your penthouse preference is, whether unique floor plans, wide-open spaces, exclusivity, then NoVa is for you. Have more questions or want to see more, then visit the Nova Showroom physically or virtually. Visit the NoVA page for more information or call our hotline 0270 000 004 to be assisted.
Share This: